Aloha! Obiecałam, że napiszę, więc piszę. Mam na to czas, bo choć jestem u rodziny w górach, to jestem chora. Leżę sobie w łóżku z litrami gorącej herbaty, tabletkami na gardło i toną chusteczek, które po woli mi się kończą. Nie ma jak wakacje. Zresztą pogoda za oknem nie lepsza, pada co jakiś czas, a o słońcu na dłuższą metę można jedynie pomarzyć! Tą całą szopkę zawdzięczam klimatyzacji w Hiszpanii, nocnym wyjściom itd. Ale wspomnienia są, niezapomniane.
Zrobiłam też małe zakupy w Hiszpanii, zobaczycie wkrótce co nieco :)
Coś na temat mojego looku - dżins jak i kwiatki. Dość banalne i oklepane, ale nie mam zamiaru patrzeć na to czy ktoś masowo to nosi. Będę się ubierać tak jak chcę na daną chwilę. Ta kwiecista sukieneczka także pochodzi z Hiszpanii, z jakiegoś małego butiku. Jest jedną z moich perełek. Jestem zwolenniczką pamiątek pod postacią np. ubrań, dodatków itd. ponieważ można je w dobry sposób spożytkować. Nie walają się po pokoju, nie kurzą w kącie. Wy także tak macie, czy wolicie jakieś małe pierdołki? :) Ja chyba z tych małych pierdołek wyrosłam, czasami bywa, że coś przykuje mój wzrok i chciałabym taką pamiątkę.
Dzisiejsze zdjęcia pochodzą z Barcelony. Totalnie urzekło mnie to miejsce i dobrze wiem, że jeszcze nie raz zawitam w tym czarującym mieście :)
Aloha! How I promised in the last post - I write. I have time for this, because although I am in a family home in the polish mountains, I am sick. I lay myself in bed with liters of hot tea, tablets, and drown the throat tissues which will come to an end. Yeahh holiday... Besides, the weather outside isn't better, it rains from time to time and about sun in the long run, you can only dream of! I owe this whole conditioning in Spain, the outputs of the night, etc. But the memories are unforgettable.
I did a little shopping in Spain, sometimes you will can see something :)
So something about my look - denim and flowers. Quite trite and hackneyed, but I don't intend to look at whether someone is called mass. I will dress as I wish for the moment. This floral dress also comes from Spain, a small boutique. It is one of my beads. I am a supporter in the form of souvenirs such as clothes, accessories, etc. because they can be in a good way to absorb. Do not rot in the room, no dust in the corner. You also have so if you prefer some small memorabilia? :) I probably grew up from the small memorabilia, of course sometimes something that catches my eye and I would like, have this memorial. Today's pictures come from Barcelona. I was totally enchanted by the place and I know that, yet again I'll arrive in this charming city! :)
with my bff Ann.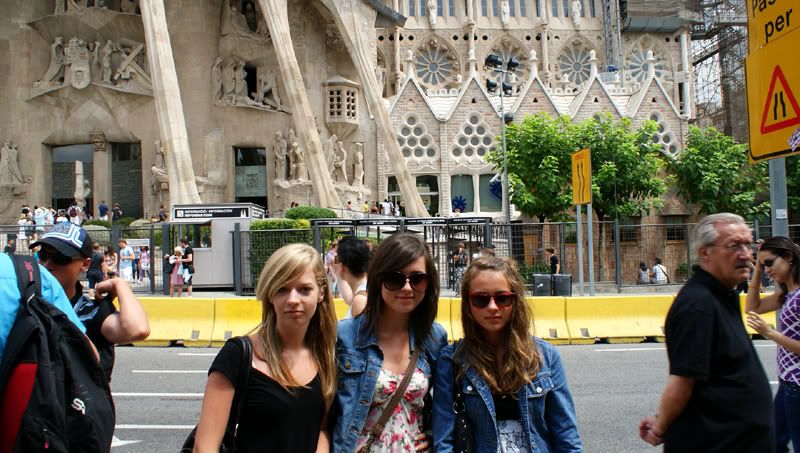 dress FROM SPAIN (LITTLE SHOP)
denim jacket VINTAGE, PRETTY OLD
bag STRADIVARIUS (SPAIN)
And thanks all soo much for Day Best on Stylio! :)
If you like that look, you can hype him on LookBook.Nu here: